About Jetbot
Jetbot is a classic arcade style adventure game, set in an era of science and robots.
Make your mark :Get the highest score while helping Jetbot through a multitude of dangerous obstacles, uncovering his origins and confronting the elusive WARMIND supercomputer.

Help Jetbot: Navigate through the levels by avoiding obstacles, activating terminals, solving puzzles, and saving fuel. Collect coins for extra points and end-of-level bonuses.
Use unlimited retries : Learn the levels and progress through the story, or play it safe from beginning to end in order to maximise your high score.
News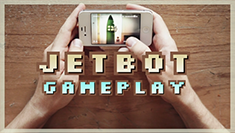 Jetbot Gameplay Video is live!
Watch it here
Jetbot is available now! Get it while its hot! (800 degrees celsius) Tell your friends!

Available on iOS & MacOS. Windows version coming soon.
---
Requirements
Compatible with iPhone, iPod touch and iPad. Requires iOS 4.3 or later. This app is optimized for iPhone 5.
Support
Join our facebook group and keep up to date on features and updates. Post your high scores and share your experience with the world!